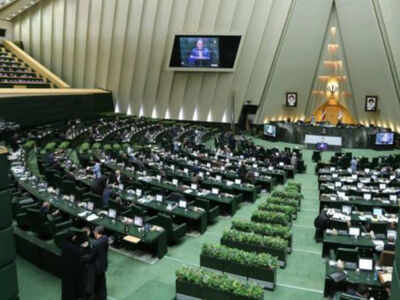 AFPHeavy gunfire could be heard outside the chamber of the Iranian parliament (File photo: AFP)
HIGHLIGHTS
Armed men on Wednesday launched simultaneous attacks in Iran's capital Tehran, killing a guard at the parliament building and wounding several people in the Mausoleum of Ayatollah Khomeini in south of the city, state media reported.

Here's what we know so far
IRAN PARLIAMENT (MAJLIS)
According to Iran's state media (IRNA), a senior member of Parliament Qolam-Ali Jafarzadeh Imenabadi said that four men stormed into the Majlis, the Iranian Parliament, today morning and opened fire injuring three security guards in the corridors. He also said that the assailants carried two Kalashnikov rifles and one colt firearms (handgun).

MAUSOLEUM OF AYATOLLAH KHOMEINI

In a separate incident, armed gunmen attacked the Mausoleum of Ayatollah Khomeini and wounded several people, Islamic Republic News Agency (IRNA) reported. The agency, quoting Head of Imam Khomeini Mausoleum Public Relations Office Ali Khalili, also said that "one of the armed men detonated himself in front of a bank outside the mausoleum."


HOSTAGES AT PARLIAMENT
Initially, the Tasnim News Agency had tweeted that the attacker(s) may have taken hostages. Subsequently, the agency clarified that security agencies had not confirmed any hostages being taken. The agency also said that there were conflicting reports that one, or perhaps the lone, attacker at the parliament had been arrested.


ONE DEAD, SEVERAL INJURED
A guard and seven others were injured in the incident in parliament on Wednesday morning, the Fars news agency reported, which occurred at the same time four men attacked Ayatollah Khomeini's tomb with guns and explosives. The assailants killed a security guard and injured at least four others at the mausoleum in southern Tehran, state television said.

PARLIAMENT ATTACKER SHOT DEAD
One attacker was shot dead at the scene and one woman arrested. It is not clear if the other gunmen have been apprehended, Iran state media said. Meanwhile, an eye witness, quoted by Reuters, said that the parliament's entrances were barricaded as security forces massed inside and outside. There are conflicting reports as to how many people attacked the parliament building and it appears the incident is still ongoing.

ASSAILANTS NOT IDENTIFIED
Though Shia Iran has been singled out as a target by Sunni jihadists, including the Islamic State group, but has largely escaped attacks within its urban centres. Iran provides key ground forces against IS and other rebel groups in Syria and Iraq. But according to media reports, the identity and motivation of the attackers is still unclear as investigations are still underway.

SECURITY TIGHTENED IN TEHRAN
Streets outside the Iranian parliament in Tehran have been shut, as security forces intensify combing operations, the Mehr news agency has reported. Meanwhile, Iran's Interior Minister Rahmani Fazli has issued an order for holding an extraordinary security session in Tehran to investigate the shooting incidents at the Parliament and the Mausoleum of Imam Khomeini.
COURTESY TOI
UP DATE BY CNN
Iran parliament: Hostages held, separate blast at Khomeini mausoleum
By Shirzad Bozorgmehr and Karen Smith, CNN
Story highlights
An attacker stormed Iranian parliament in a separate incident, bomb attack and shooting spree targeted Ayatollah Khomeini shrine
(CNN)Multiple attacks have hit the Iranian capital of Tehran, according to state media.
Hostages are being held in the Iranian parliament, where at least three people were injured after an attacker stormed the building, state-run Press TV reports.
In another incident, a woman was arrested after a bomb attack and shooting spree wounded two people at the Ayatollah Khomeini mausoleum south of the city Wednesday, the semi-official Fars news agency reports.
The news agency reported that another attacker is currently surrounded by security officers.
Terrorist attacks in Iran are rare, particularly in the highly-controlled capital where tourist and government sites are tightly policed.
Symbolic attack
Iran's parliament, also called the Islamic Consultative Assembly or Majlis, has 290 members. It has female members and has representatives for religious minorities including Christians, Zoroastrians and Jews.
It is currently unclear how the attacker or attackers entered the parliament building, which is highly fortified, with multiple security checkpoints.
Gun ownership is tightly controlled in Iran, meaning those who carried out the attacks on the parliament and the shrine likely had to smuggle their weapons into the country.
The location of the second attack is extremely symbolic, targeting the mausoleum of the Islamic Republic's founder and first supreme leader Ayatollah Ruhollah Khomeini. He led the revolution that overthrew the Shah in 1979 and was Iran's leader for 10 years.
The mausoleum is located around 25 kilometers (15 miles) from the parliament.
Terrorism rare
Terrorist attacks in Iran are rare, but the country — with its largely Shiite population — has been involved in military actions against Sunni terrorist groups such as ISIS, who regard Shiites as apostates.
Last year, Iran's government said it thwarted "one of the biggest plots" by terror groups targeting Tehran and other major cities during the month ofRamadan. This year's holy month started almost two weeks ago on May 26.
The last major attack in Iran was in 2010 when a Sunni extremist group carried out a suicide attack against a mosque in Sistan-Baluchistan killing 39 people. Kurdish groups have carried out small scale attacks against Iranian security forces in the north-west of the country.
CNN's James Griffiths and Madison Park contributed reporting.